Building Contractors in West Sussex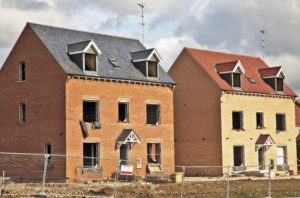 At Exbury Homes, our talented West Sussex-based building contractors use their experience to provide exceptional services.
Whether you're an individual dreaming of your perfect home, a private landlord building your property portfolio, or a housing association establishing an estate, you can enjoy our extensive variety of premium quality house building services.
Luxury House Building in the West Sussex Area
Whatever your plans, from single self-build projects to larger-scale estate developments, you'll receive a personalised experience from our luxury house builders in Sussex.
We use the finest quality materials to construct the house style of your choice; be that traditional, ultra-modern, or your unique taste. We'll gladly work with your chosen architect, or we can connect you with one.
For estate projects, we offer support throughout every aspect of the process, including legal obstacles. Additionally, we explore different design options for every project, such as gardens and driveways, in order to fully optimise your plot of land.
Innovative New Eco House Builds
If you desire a house which is both environmentally and financially beneficial, then we can construct an exceptional eco house for you.
Exbury Homes is excited to be part of the rising popularity of energy efficient houses, which are speculated to become the future norm. Our features include solar panels and improved insulation through green roofs.
Furthermore, our builders in Sussex source sustainable, eco-friendly timber which boasts a Super E rating. It's robust and impervious to rot, enabling our eco houses to reach top-quality standards.
House Extensions in West Sussex
As your life changes, so too do your living space needs. Exbury Homes build cost-effective extensions which merge seamlessly with your existing property style.
Our West Sussex-based building contractors adapt to any design, working out every fine detail until your extension reaches perfection.
Our conservatories enlarge homes effortlessly, whilst multi-storey projects maximise space both downstairs and above. We offer a variety of roofs to tailor-make your ideal loft conversion, or alternatively, we can transform basements into wine cellars or gymnasiums. Whatever you imagine, we can build.
Transformative Refurbishments For West Sussex Homes
Our building contractors in West Sussex are experts in ensuring that homes reach their full potential. To refresh your home, we can remodel the interior space or add modern day conveniences such as central heating or combination boilers, so you can fall in love with your home anew.
We can also improve the energy efficiency of houses by adding double-glazed windows or cavity wall insulation. If you're a landlord, our refurbishment services will help your rented properties conform to the new energy efficiency laws due in April 2018.
Whatever your property development needs are in West Sussex, our building contractors are equipped and ready to exceed your expectations and delight you with our outstanding craftsmanship.